Shuttle Discovery was supposed to lift off on November 8th of last year, but the launch was delayed when technicians found a gas leak and crack on the shuttle's external fuel tank.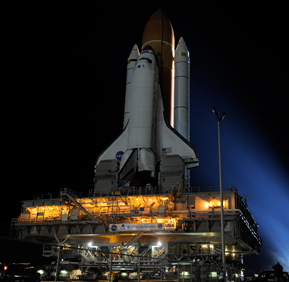 Bathed in bright xenon lights, space shuttle Discovery makes its nighttime trek, known as "rollout," from the Vehicle Assembly Building to Launch Pad 39A at NASA's Kennedy Space Center in Florida. Photo credit: NASA/Kim Shiflet
NASA attempted to fix the problem within the launch window, but more cracks were found on the support structure for the fuel tank and the entire mission was scrubbed.
NASA's Kyle Herring says the shuttle is fully repaired.
"A huge amount of effort, engineering effort, analysis, testing was ongoing over the course of the last couple of months to ensure that, not only those repairs, but that any other work that needed to be done was done safely. Everything is looking quite good right now, those repairs that have been made and all the testing done proves the vehicle is safe to go fly."
Shuttle Managers will meet next week to decide on an official launch date, which will likely be February 24th. The shuttle will carry parts and supplies to the International Space Station. This will be Discovery's 35th and final mission. NASA has two more shuttle flights planned after that, one each for Endeavor and Atlantis.