(Sound of light rail car's bell and clapping)
METRO unveiled the light rail car in front of a lively crowd at its Rail Operations Center south of downtown. The bright red train displays the words "stop," "think" in big white letters across the side of the car. A large traffic signal with the red light illuminated follows. METRO chairman Gilbert Garcia says the purpose of the new paint job is to remind people to be more alert when approaching rail crossings.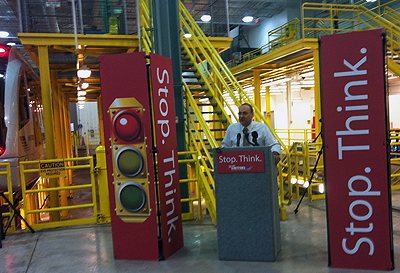 "METRO has a very important mission, which is to get people from A to B. But the key is we have to do that safely. And I don't how many of you know that Texas ranks number one in highway rail-grade collisions."

Between 2004 and 2010 there were 313 light rail accidents in Houston, many due to drivers failing to stop at a red light when a train is approaching an intersection. METRO hopes the campaign will caution people behind the wheel to always stop on red. METRO president and CEO George Greanias says the train's message is meant not only for riders, but also for drivers, and people who may walk near the rail tracks.
"And so, what we've done is we've wrapped this train to make people think when they see it, 'Oh, when I'm around a track, whether it's METRO's track or a freight railroad's track, I need to think twice before I make a mistake, before I try to cross a grade crossing where there's a train coming, before I think I can beat the train to an intersection.' This is really to make people do just what the train says, stop and think."

There's been a steady decline in light rail collisions in Houston in recent years. In 2008, there were 53 incidents; last year, there were 34. The light rail car promoting safety will be wrapped in red for six months.
This text will be replaced
For more on this story, visit Transportation Nation. KUHF contributes to transportationnation.org, a public radio reporting project. "Transportation Nation combines the work of public radio newsrooms and their listeners as the way we build, rebuild, and get around the nation changes."