"We challenge TxDOT 'Okay, build segment E, begin construction in 2011.' And I believe they'll do that and that will make the Grand Parkway get built sooner."
Harris County Judge Ed Emmett was happy with yesterday's vote. For him it's a win-win: The state will begin construction on part of the Grand Parkway, and the county will be able to direct its energies on other transportation projects. This is good news, says Citizens' Transportation Coalition Chairwoman Robin Holzer.
"By all accounts the 290 corridor is the most congested transportation corridor in the entire Houston region. So if letting the Grand Parkway go gets the county to focus our tax dollars on a project that will make a difference — like the Hempstead managed lanes, or perhaps a rail project in the northwest corridor — that's a good thing."
But even though Holzer is pleased that the county wants to give up its right to construct local sections of the Grand Parkway, she says no matter who builds it, it's still a waste of taxpayer money.
"At the end of the day the Grand Parkway is proposed to run through an environmentally sensitive prairie where there are almost no people. We need our transportation dollars to invest in projects that will help existing tax payers."
Supporters of the Grand Parkway say the road will spur economic growth in the region.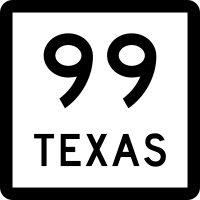 Image from The Grand Parkway Association.