County Attorney Vince Ryan says that on Nov. 5 the Texas Supreme Court made a troubling decision. It ruled that if a big storm erodes away the beach, the public easement on beachfront property no longer applies. Ryan says if the ruling stands, it could lead to a future where only rich people who own beachfront property can get on to certain beaches.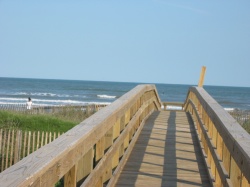 Harris County Attorney Vince Ryan explains why he wants the Texas Supreme Court to reconsider its decision on public beach easements.
"It limits the access of middle-income Texans and those struggling just to have a recreational area to go someplace that has always been there for the rich and the poor alike. And just cuts the legs out from under their rights to go to those beaches."
The Texas Supreme Court said in its ruling that it was trying to protect property owners from losing rights when a storm suddenly changes the beach boundary.
If the decision stands, the Texas General Land Office would have to write new rules governing beach access. Helen Young is deputy commissioner of coastal resources for that agency. She says the general public would be hemmed in and restricted from throwing down a beach blanket up and down the Texas coast.
"And that would mean probably smaller public areas where more people would be crowded in. And of course the impacts on the tourism industry which is a substantial boost to the Texas economy."
Ryan says he hopes his friend-of-the-court brief will help convince the Supreme Court to re-examine the case.