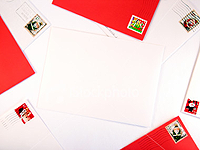 The Postal Service delivers nearly half the world's mail, and a lot of its business comes during the month of December. The first deadline to ensure Christmas delivery is for international mail, according to Dionne Montague with the southwest region of the Postal Service.
"For international mail, the deadline for first-class mail letters would be December 10th. For Priority Mail, it's also — depending on where it's going — either December 10th or the 13th of December. If you wait any longer than that, you're going to need to send it Express Mail, and that deadline is December 16th. And the last chance to send international mail to get there on time would be December 17th."
Packages can be sent Global Express Guaranteed through December 17th. Mail going to APO and FPO military addresses have until this Friday, December 10th. After that date, you need to use Express Mail, and you'll have through December 17th. Montague says domestic mail has later deadlines.
"First class packages going domestic, you have until December 20th. Priority Mail, December 21st. If you wait past the 21st, you're going to need to send it Express Mail, and that deadline is December 22nd. Priority mail will get it there in two to three days, and Express Mail will, most of the time, get it there the next day. Parcel post, you have until December 15th."

Peak mailing day is Monday, December 20th, when the Postal Service expects to process some 801 million cards, letters and packages. Peak delivery day is Wednesday, December 22nd. To minimize waiting times, Montague recommends utilizing the online services to print labels and postage, or the kiosks at most post offices.