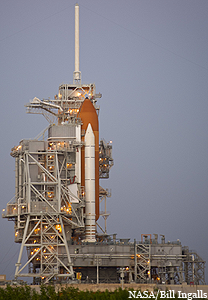 Space shuttle Discovery on Launch Pad 39A at NASA's Kennedy Space Center in Florida.
The cracks are on a part of the shuttle's fuel tank called stringers. Basically they're the skeletal supports that hold the
tank together.
NASA Space Operations Manager Bill Gerstenmaier says the tests will help them separate real from imagined problems.
"So basically what we're going to do with these tests is we're going to make sure we didn't overlook anything. We'll see if these tests can reveal any new information for us. And then also help us sort out what the real problems are that we need to be working on versus ones that we just think theoretically may be there. So these tests stand to really move us forward. We're at that point in the trouble-shooting where we need to go add these additional tests, we'll take the time to do that. And we'll get ready to go fly when it's time to go fly."
Space Shuttle Program Manager John Shannon says the stringers are actually repaired, but they can't yet tell what caused the problem in the first place. And that's why they're not prepared to move forward with the launch.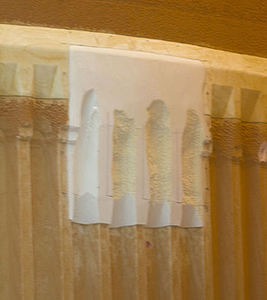 The cracks on space shuttle Discovery's external fuel tank have been repaired at NASA's Kennedy Space Center in Florida. The foam cracked during initial loading operations for Discovery's STS-133 mission to the International Space Station on Nov. 5. The cracks were on two of the 108 stringers, which are the composite aluminum ribs located vertically on the intertank area. Discovery's next launch attempt is no earlier than Feb. 3, 2011. Photo credit: NASA/Cory Huston
"We were expecting to find an obvious problem. Some kind of a flaw in the material, some kind of a crack that had been missed during the construction of the inner tank area. And as we have gone through the investigation, we're not finding that obvious flaw or obvious problem."
The tentative date for launch is now February 3rd. Discovery is supposed to carry supplies to the International Space Station. This delay will also postpone the launch of Shuttle Endeavour, which was supposed to take place in late
February.