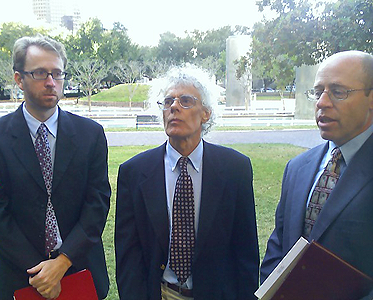 From the left to right: Luke Metzger, director Environment Texas; Dr. Neil Carmen, Sierra Club; Josh Kratka, National Environmental Law Cent.
Research done by environmental groups found repeated violations of the Clean Air Act by Chevron Phillips Chemical of Baytown. It resulted in the release of more than a million pounds of toxic pollution at its Cedar Bayou plant, including benzene and butadiene. While it had taken some action, the Texas Commission on Environmental Quality, charged with enforcing those permits, had allowed the facility to continue operating. That lead to a lawsuit filed against Chevron-Phillips by the Sierra Club and Environment Texas, to force the facility to comply with its permits. Attorney Josh Kratka is with the National Environmental Law Center.
"Once we notified Chevron-Phillips that we were planning to sue them for it, they sat down with us and worked constructively with us for the past year, on coming up with a settlement agreement that actually addresses the problems that had been occurring at the plant."
Pending approval by a federal court judge, the settlement agreement would bring significant changes to the company's Cedar Bayou Facility, including mandatory reductions in air emissions from any work stoppage, extensive operational upgrades and increased air monitoring. Chevron will also pay a 2-million dollar penalty which will fund and environmental health clinic in the area run by Baylor College of Medicine. This is Brian Cain with Chevron-Phillips:
"The company's glad to have reached an agreement. We look forward to moving beyond this so that our approximately one thousand employees and contractors at our Cedar Bayou plant can get back to doing what they do best, which is operating in a safe, responsible and environmentally compliant manner."
Environmentalists hope agencies charged with enforcing the Clean Air Act will be more diligent.