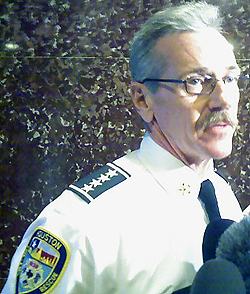 Not long after he was sworn in as Houston's new fire chief, Mayor Annise Parker dispatched Terry Garrison to fix a 10-million dollar budget shortfall sparked by overtime and termination pay for retiring firefighters. He says there will be some shifts in personnel.
"We have to look at the people that are the furthest away from the actual service we provide. Obviously, we wouldn't want to lay off fire fighters, because of the service they provide, so we have to start looking at our staff personnel. One of the things we find that we could probably be more efficient with our quarter master piece. Unfortunately, that's gonna result in a layoff of up to four to six people."
Garrison says some firefighters will be moved to other duties while their stations are closed for scheduled remodeling and maintenance. Other measures he laid out included cutting the 18 paramedic response squads to 11. Mayor Parker says they've been cutting spending in all city departments since the day she took office. She's brought in a new leadership team to find efficiencies.
"For the specific goal of improving revenue collection in the City of Houston, like the fee for service for example, there was no methodology across the city. Obviously we don't have the luxury of leaving any money that should be collected uncollected, and so we are tightening up our procedures."
She adds they're also looking internally to tighten their belt.
"This is not just about raising fees, which we will do because we're trying to recover cost of services. It's not just about collecting on uncollected fees, which we will do, because if you owe us money, you should pay it."
The city controller estimated an 80-million dollar gap in revenue.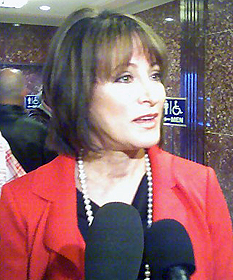 Meanwhile, by a vote of 9-6 Janiece Longoria was reappointed as commissioner to the Port of Houston. She beat out Dean Corgey as the mayor's choice.
"He's a very fine person. I would just suggest that there was no reason to change, and I represented the interests of the city exceedingly well, and I will continue to do that."
Supporters who backed Longoria for reappointment said with Mexico and Latin America major trading partners, having a commissioner who speaks Spanish was crucial.