If it wasn't for the hand-made sign posted on the fence, you might miss the east side warehouse that contains the floats being assembled for the annual Thanksgiving Day Parade. Inside, you're inundated by the colorful paper-mache creations of skilled artisan Anthony Nguyen and his family.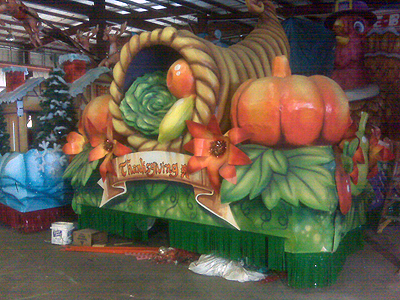 "Tracey gives me an idea, the name of the float like the theme of the float, and then I come up with a concept, black and white sketch, and then I send it back to her, and she gets it approved and then she feeds that to me and says 'okay Anthony. Go ahead.'"
It begins in front of Minute Maid Park and travels 20-blocks through downtown. Tracey Golden is parade director. Except for the area near the television zone, she says the event is free along the route, so they work at providing fun themes to get folks to come out.
"This year is "Adventures at Sea", and you can see by these floats, we have some beautiful. e have our "Adventures at Sea" float with dolphins and exotic fish all over the place, and we've got our amazing pirate ship, we'll have lots of pirates and mermaids and sea creatures in this year's parade."
She says the Giant Pirate ship springs into life after making its debut earlier this year at iFest:
"This was something that was a huge hit at the International Festival last year, which is another event that our organization produces, and is actually built in mind to do double duty, and that's really how we came up with the whole theme of "Adventures at Sea", because we wanted to be able to showcase this amazing pirate ship."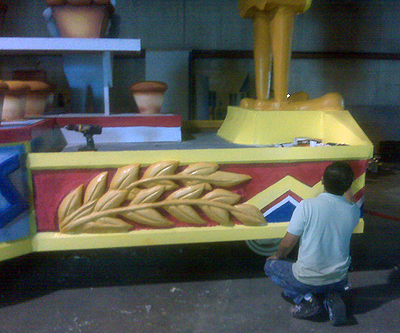 While the ship is not an Anthony Nguyen creation, his daughter Kim says building floats is a family affair.
"I help my dad paint and build the floats, and I take care of all his paperwork, basically."
PH: "Colors I guess, would play a big part?"
Nguyen: "Yes, we love putting every single color that we could on it. That makes sense of course, and this year we have like under the sea theme, so we have a lot of blues and oranges and yellows and pinks, anything to look very festive and under the sea. And of course, all the colors for Thanksgiving and Christmas of course."
She says the usual stars of the parade, Tom Turkey and Santa Claus and his reindeer floats will be there:
"We put our heart and should and sweat into everything in the parade, and what we want to see is how the community reacts to it. I feel like if we're happy about it, then they'll be happy about it too."
The floats will compliment giant helium filled balloons and more than 50 entries in the parade that will attract over 400-thousand. It begins at 9am downtown on Thanksgiving Day.