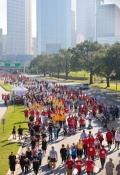 It's all part of the life of an executive. Jason Few leads Reliant's retail electric business, is on the board of directors of Syniverse Holdings, serves on the boards of the Greater Houston Partnership, Rebuilding Houston Together and the M.D. Anderson Cancer Foundation, to name a few. He's also the chair of the American Heart Association Houston Heart Walk on Saturday. Few says the company's participation encourages healthier employees.
"One thing that every company is facing today is increased costs associated with health care, and if we can get a large number of our employee base out walking actively and walking during the, during the week, there's an absolute financial business benefit to that. And from a community engagement standpoint, getting those employees involved really helps very strongly in terms of the type of advocacy program that we want to have. And it also shows as a company, we're very committed to something, that we're not just writing checks."
Few says chairing this year's Heart Walk is also a personal thing for him.
"It was an easy decision for me to get involved when asked. I have two uncles that both died of heart disease. I've got a mother who has suffered from heart disease, a mother-in-law who's suffered from heart disease. And certainly something that I, you know, am very committed to, in trying to live a healthier lifestyle to make sure that I don't suffer the same fate. And if I can leverage the strength of our company and the strength of our employee base to help, I'm very excited about having an opportunity to do that."
The Walk raised more than $1.5 million for education and research last year, and Few hopes to raise $2 million this year, with even more participants. The five-mile walk begins downtown at Sam Houston Park on Saturday morning.