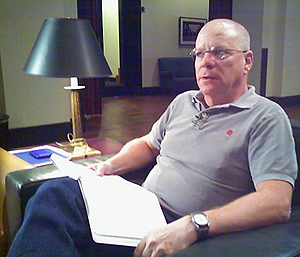 Professor Bob Stein
The poll on the propositions was conducted by Rice University's Center for Civic Engagement. It surveyed 437 registered voters in the city of Houston. It found 56-percent opposed a proposed drainage fee to 29-percent in favor. Professor Bob Stein says the poll shows propositions 1 & 2 trailing significantly.
"But somewhat to a surprise to me, Proposition 3, which of course deals with the red light camera, is almost well ahead as the drainage fee and the residency requirements are trailing with voters."
Stein says despite Mayor Annise Parker's support of the drainage fee, churches, the HISD and many in the African American community did not.
"And this became a controversy, not about the merits of the drainage fee and the need for this type of program, but on the way it was done. When an issue like this becomes lost in the debate about process, it almost inevitably will fail."
Stein says the shaky economy may not be the right time to raise fees from people who would most benefit from it. Paul Betancourt is with the Stop 1 Campaign.
"For the first time in my public life, I've seen a proposition be a minimum tax or fee, so it mandates minimum spending, and when you put all this together with the fact that it's taxing churches, schools and charities, it really has a negative taste in the mouths of the average taxpayer. But the public, once they're informed of just how massive the tax is, basically they'll vote no."
Professor Stein says the KUHF/11News poll finds voters in favor of keeping red light cameras.
"The people who supported this, ATS and many of the council members including the mayor, talked abut the positive benefits of the red light camera, not in terms of just reducing collissions, but the monies it generates for emergency medical services. Most importantly, they didn't have an active opposition. Although Mr. Kubosh got the petition signatures, he didn't do very much and spend very much to oppose this. Maybe because he got the benefit he was looking for, his own publicity for his own business."
Phil Owens with Citizens Against Red Light Cameras says their poll shows Houstonians do not like the cameras.
"Again, we will dispute that it saves lives, that we believe that red light cameras acutally increase accidents, and I think the educated voters will see through that, and see the fact of the matter is this is a multi-million effort to protect the business interests. The voters have a right to be heard. The government needs to understand is, they work for us. We are not beholding to them."
Rice University's Professor Stein says despite the survey results, voters on Election Day could still make the numbers a lot closer.
To view more local election coverage, visit KUHF local election 2010.