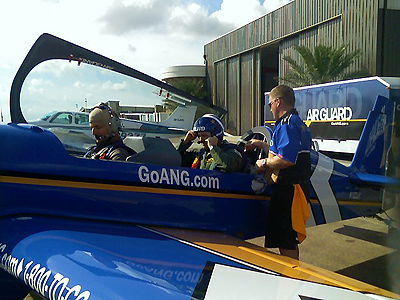 Lt. Colonel John Klatt strapping in
Lt. Colonel John Klatt dreamed of flying as a child growing up in Minnesota. His father, an aircraft mechanic, would tell aviation stories and take him along to air shows. His commission in the ANG gave him the opportunity to fly C-130 military transports delivering crucial supplies during Operation Desert Storm. He later became a seasoned F-16 pilot and completed three combat tours in Iraq.
"I've been really proud to serve in the Air Guard. The Air Guard is a first class organization, really. It's been a family to me. I miss the squadron. To be able to serve in a time of war is probably the highlight of my military career."
Col Klatt says he was drawn to the world of aerobatics because of the high degree of concentration and mental toughness it requires. He spins and dives in a plane that travels at speeds in excess of 250 mph.
"The routine is almost like a ballet. I have ten minutes of flying and I have 21 figures that I fly. There's really no margin for error when you're flying around upside down at five feet, so it's very scripted, very practiced. To the naked eye it doesn't look like that. It looks like chaos, but it really is well scripted."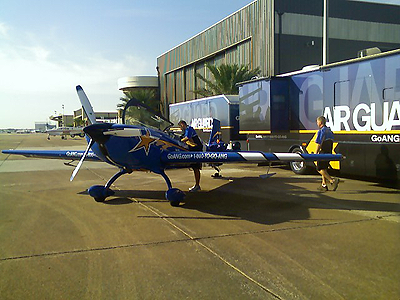 The Air National Guard's Staudacher S-300D, a 1250 pound aircraft that can travel at speeds in excess of 250 mph.
His dedication to his craft has made him known as one of the top aerobatic pilots in the country. Klatt says he flies for the Guard first, and everything else follows after that.
"I always enjoy flying, but the flying's not about me. It's about an air show. So it's about entertainment, and it's about the people that take the time to come out and enjoy what they're gonna see in the sky. I think air shows are magical."
Klatt is one of the performers who will appear this weekend at the Wings Over Houston Air Show at Ellington Field.