The Texas Heart Institute at St. Luke's was founded by a very famous man — Dr. Denton Cooley, the pioneering heart surgeon. But now the Institute is swinging its attention towards women with the launch of a Center for Women's Heart and Vascular Health. Cardiologist Dr. Stephanie Coulter will direct it.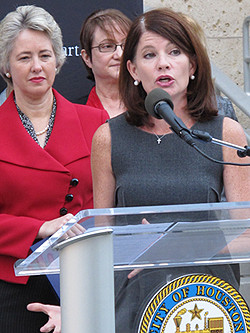 Cardiologist Dr. Stephanie Coulter announces the launch of the Center for Women's Heart and Vascular Health at the Texas Heart Institute during a ceremony at Houston City Hall
"Women, they tend to get heart disease later in life. And men get it maybe 10, 15 years earlier than women and they just really got all the attention."
The new center will have three goals: doing clinical research on women and heart disease, raising awareness among Houston women, and educating doctors and nurses to better recognize the danger signs in their female patients.
"The symptoms are often ignored in women; the symptoms are often different in women. That's complicated by the fact that doctors have in the past ignored or avoided these symptoms in women. And really women have suffered for it."
They continue to suffer. Coulter says men are still more likely to get bypass surgery or treatments like coronary stents. One disturbing outcome is that women are twice as likely to die than men after a heart attack or stroke.
The Heart Institute announced the new center outside City Hall. Dr. Denton Cooley was there, as was Mayor Annise Parker.
"The fact that women, or a woman, is five times more likely to die of heart disease than from cancer is a message that's not getting out."
The Texas Heart Institute will plant 41 rosebushes outside City Hall, to draw attention to the 41 million American women who have cardiovascular disease. That's in contrast to the 6 million women who have cancer at any one time.
Coulter says she'd like to see more research on the link between depression and heart disease.
"I mean you know the risk of depression in women is twice that in men. And the likelihood that depression has an outcome — a measurable outcome effect in cardiovascular disease is very high. Aspirin. Reduces cardiovascular recurrent event rates by 23 percent. That's pretty big. I mean, everybody knows aspirin's so big. It's thought that depression could be greater than that, the control and treatment of depression could be greater than that."
The center is now open. The Heart Institute has committed at least 5 million to launch it, but hopes to pull in more donations and research grants going forward. From the KUFH Health Science and Technology Desk, I'm Carrie Feibel.