Being stuck on the freeway for hours during rush hour traffic, is nothing compared to the wait-time Houston's shipping industry dealt with this week.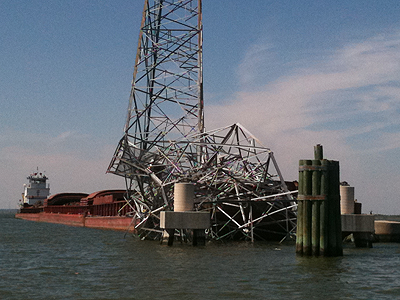 The Coast Guard is responding to a downed power line in the Houston Ship Channel, Oct. 3, 2010. Coast Guard Sector Houston-Galveston was notified at 6 a.m. that a barge had struck highline electrical tower 197 in Baytown. The tower supports power lines that cross the Houston Ship Channel. U.S. Coast Guard photo by Petty Officer 2nd Class Prentice Danner
The Houston Ship Channel closed to all traffic on Sunday, after a barge ran into a high-voltage electrical tower.
Since then, Coast Guard Petty Officer Richard Brahm says 25 ships were waiting to leave the port and 46 were waiting to get in.
"Things are going good. We initially opened — part way opened — this morning at approximately 2 a.m. to one-way traffic, and that was heading outbound. And we were getting tugs and barges out of there that way we'd have more room for vessels that were incoming. And then at approximately 7 a.m. we opened it completely to all traffic."
Brahm says when the channel opened this morning, cargo ships were allowed through based on order of priority, with small vessels waiting until all the cargo loads passed in and out.
"Well you know it happened Sunday morning at 6 a.m. and this was a new incident for all of us. We had never really run into an issue like this before. And overall I'd say it was handled pretty well and it was taken care of rather quickly, considering the size and its location and everything that was going into it."
The Coast Guard had hoped to reopen the channel yesterday, but work to pull down the damaged tower took longer than expected.