A couple of trucks with tires and appliances were the first to use Houston's newest and largest depository and recycling center. It's located on 59 south near Beltway 8. Harry Hayes is director of Houston's Solid Waste Management. He says the center was the result of the city thinking out of the box about capital improvement dollars.
"This facility used to be an old Public Works facility that was slated for a land sale. Two and a half years ago, I looked at this site, and we took this land off the books. We reprogrammed some CIP dollars (and) worked with the community to get a facility out here that would be much impactful on this area."
Hayes says the center will offer some 900-thousand residents with access to the Southwest Freeway and the Beltway an opportunity to recycle, and an alternative for disposing unwanted bulky items and tires, instead of waiting for regular heavy trash day. Mayor Annise Parker says the facility diverts waste from landfills and provides a tool to stop illegal dumping.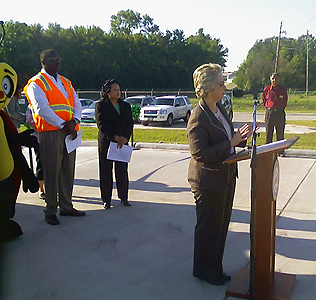 "By making it easy to provide a place that they can bring their heavy trash, realizing that the changes we made to the heavy trash pickup schedule can be inconvenient for some people, but the good guys have always figured out how to do it. When we put a facility like this, it means that there really are no more excuses for illegal dumping, for putting out your heavy trash at the wrong time. Bring it here. We can take care of it."
The center can simultaneously accommodate 10-vehicles for bulky materials and three vehicles for recycling. Becky Edmondson is the new president of the Westbury Civic Club.
"We'd have to go to one of the other locations about 25-miles away, it's just not very convenient to do the right thing. So we're really excited to have this facility in our backyard. It's five miles from my house in Westbury to this location, and Westbury is the second largest neighborhood in the city. Sharpstown is about the same equal distance, and they're the first largest neighborhood in the city, so this facility is going to provide a lot of good benefits to a lot of people out in southwest Houston."
Service will be provided to Houston residents at no charge with proof of residency in the form of a water or utility bill and matching Texas drivers license or comparable ID. Hours of operation can be found at the Houston Solid Waste website.