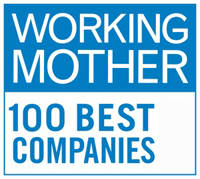 Twenty-five years ago, mothers got six weeks partially-paid maternity leave, and now most enjoy six to 14 weeks with full pay. Jennifer Owens is with Working Mother magazine.
"We look at representation where the women are in a company. We look at their childcare offerings, their parental leave offerings, the flexibility they're offering. And we also look at the usage of all these. So we're looking at what they offer, who has access to it, and how much and who was actually using any of these programs. And then advancement, like recruitment, retention and advancement programs."
The 25th annual list from the magazine will note those firms that have implemented more family-friendly policies, sometimes including paternity leave and leave to allow for the care of aging parents.
"One of the big changes that we see is just the explosion among the winning companies–the number of childcare benefits they offer, back-up childcare, sick child care, school holiday care. Just in the past, like, three or four years, 87 percent of the winning companies offer back-up childcare now. We have a hundred percent of our companies offer telecommuting, a hundred percent offer flex time, so we have seen no retreat. No matter what the economy is, these companies are committed to supporting working mothers."
Two Texas firms are again on the Working Mother Top 100 list, which will be published on the magazine's Website later today.