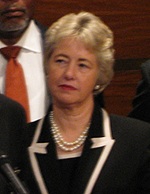 Mayor Annise Parker
FTA officials say Metro broke federal purchasing laws and Buy America requirements when the agency handed over two light rail contracts to a Spanish rail car vendor. FTA Administrator Peter Rogoff called Metro's purchasing process "alarming and disturbing" in letter he delivered in person to Mayor Annise Parker and Metro officials. Here's Mayor Parker:
"Today's decision by the FTA confirms my instincts that there were serious problems at Metro and affirms my decision to replace the majority of the Metro board and to ask them to bring in new leadership."
There are concerns that the violations will lead to further delays in the construction of light rail projects. Metro has been waiting for a federal grant to the tune of 900-million dollars for projects on the North and Southeast light rail lines. But despite the FTA's findings, Metro CEO George Greanias says he's actually relieved by the news.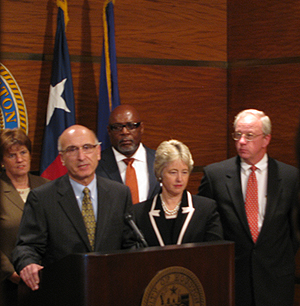 Metro CEO George Greanias at podium
"From the day I walked into this job, the question was, 'What is the Federal Transit Administration going to do with regard to these full funding grant agreements?' Today I walk out and I know: They're gonna move forward. We're moving forward towards getting those grants. I believe at the end of the day that's going to happen. I also had this question, 'What are they gonna do about the rail cars?' Now I know. I have a path forward that I did not have for the last three and a half, four months. To me, that's a good day."
Greanias says the FTA continues to support the rail program and is still on course to issue federal funds for the new lines. METRO will now have to rebid the contract for the project, a process that could take roughly twenty months before any new rail cars a purchased. Still, Greanias anticipates that the bidding process will be shorter than usual.
"Much of the work that was done on this process is not necessarily something that can't be salvaged. And the preliminary indications that I've received is we may be able to salvage some of that technical work, not have to go all the way back to square one. That may help move the process along further than might normally be the case."
METRO officials confirmed that around 40-million dollars has already been spent with the Spanish manufacturer. Greanias says whether the Spanish firm will be able to participate in the rebid remains unclear. METRO is confident it will still be able to complete the light rail lines by its October 2013 deadline.