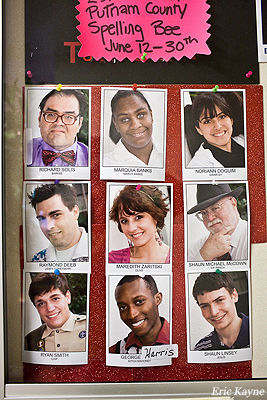 The 25th Annual Putnam County Spelling Bee performers
(vocal warm ups)

The Dionysus Theater in Houston sounds like any other local theater group, but it has a unique model.
"We put abled and disabled bodies on the stage together, to perform."
Raymond Deeb sang in the summer musical The 25th Annual Putnam County Spelling Bee.
The cast included two performers with autism spectrum disorders, and a woman who is blind.

(Director calls to get into "places")

But before you take your seat, the founding artistic director, Deborah Nowinski, would like you to please try to check your stereotypes at the door.

"And a lot of our audiences come in who haven't been to Dionysus Theater, going: 'I thought this was just going to be a pity party, and you were just going to sing a couple cute songs of Annie.' And they walk out and everybody does their mea culpa, and the mea culpa goes as this: 'I am so sorry I had this preconceived notion, I really thought all disabled people were retarded.' I have heard that. I have heard it over and over and over again."

(song excerpt: "a very nice beginning…")

So, yes, it's a nice beginning if Dionysus can blow through the most crass assumptions. But Nowinski also wants to make sure that actors with disabilities have a place to, well, act.
"You know, my public school wouldn't let me. They gave me every excuse in the world."
Marquia Banks is totally blind, but her vibrato is powerful and her comic timing, impeccable. She joined Dionysus more than ten years ago.
"Everybody was so inviting. There was no 'Oh, this is going to be kind of hard for you.' There was none of that. There was 'Okay, can you do this? How fast can you learn it?' And I said 'Deb, how do you get into this?' And she said 'You're in.' And I've been 'in' ever since."
Nowinski says most people know enough not to tease people with disabilities outright. But as Banks experienced, once people see you as "disabled," they can become overprotective, or lower their expectations of you.

"So we really fight very hard when the actor with disability comes in to take off that label and to say you have the right to create, you have the right to sing, you have the right to be on the stage."
Within disability circles, there are discussions about what words are most respectful. Rebecca Weiner teaches children who have autism spectrum disorders.
"'Special needs' for some conjures up the image of deficiency. They have 'special needs' and we have to meet them."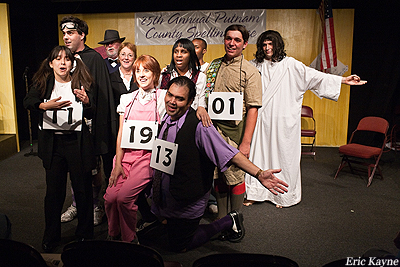 For additional photos of the Dionysus Theater, visit Eric Kayne's gallery.
Weiner prefers the phrase "students with exceptionalities."
"Exceptionalities is a broader term which includes gifted and talented education as well as special education. I think that all students, diagnosis or not, have exceptionalities. Because there is no rule, we're all exceptions to the rule."

In general, advocates say we should avoid outdated terms like "the deaf" and "the disabled" because they lump individuals into groups and put the focus on the disability.
"So we might talk about a student with autism as opposed to an autistic student. We cannot reduce a human being to a diagnosis."
Advocates who track language trends, like the periodic resurgence of the term "retarded," say they do have real-world implications.
A Justice Department study released last year revealed that people with disabilities were 50 percent more likely to be the victims of a violent crime. Nowinski points out that most of us are really T-A-B: Temporarily Able Bodied.
"We are tabbies. We are temporarily able bodied. By the grace of God. Because the next day, something could happen."

(song excerpt: "At the Annual Putnam County Spelling Bee, we grew up undeniably")

Carrie Feibel, KUHF News.
For more information concerning disability language and etiquette, visit the United Spinal Association's Disability Etiquette guide and the Special Olympics' campaign against use of the r-word. For an article tracking language trends, Salon.com's The battle over 'retard'.