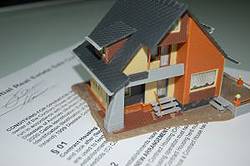 Ken Bacon is a Houston native. He's executive vice president of Housing and Community Development at Fannie Mae, responsible for Fannie Mae's $185 billion multi-family portfolio. Bacon says Fannie Mae made known its commitment to the region in the immediate days after the hurricane.
"When Katrina happened, we were a different company. We weren't in conservatorship. The overall housing market was different. But that being said, I think the role that we continue play is (if) people want to come back and live here, we're there for them. So that meant not only making sure that single family mortgages were available, but that multi-family funds were available, to make sure that whoever was involved in housing had a relationship with Fannie Mae. Whoever needed capital, Fannie Mae had a product offering for them."
Bacon was responsible for managing $78 billion in mortgage and other investments related to recovery from Katrina and other recent hurricanes. Fannie Mae is a secondary market participant.
"We don't make mortgages, but for the people who do make mortgages, they know there's someone out there who will buy. That provides liquidity to the market. No one is ever truly totally prepared for these disasters, when they occurred. So we learned that whether it was things like showing some flexibility if someone had an apartment loan, if they needed to refinance, giving people more time for paperwork, appraisals—just a variety of areas. The more responsive you can be, the more flexible you can be, the more helpful you are."
Bacon spoke to the Houston Forum this week. Ed Mayberry, KUHF News.