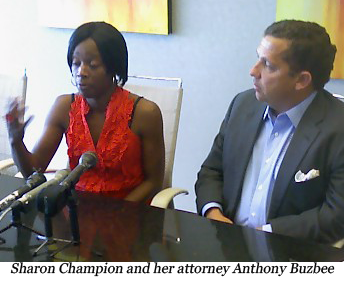 Twenty-nine year-old Sharon Champion finds it hard to talk about her six-month-old son Julius.
"My baby was just the healthiest, the happiest. You just see him, he'll just put a smile on your face, and I feel like my son was taken from me because of BP. I don't care what nobody says. I feel like they're the reason why my baby's not here. I only got six months to spend with my son."
The Hitchcock woman has filed a wrongful death lawsuit against BP, claiming her son's death was the result of emissions from the company's Texas City refinery earlier this year. She says other family members had unexplained
symptoms as well.
"Well, my nieces and my nephews and my oldest daughter, they was vomiting, having diarrhea, and wasn't able to hold nothing in their stomach. We thought it was a stomach virus, but now we're putting all this together. We knew where the symptoms were coming from."
The company faces a state investigation in the release of more than a half million pounds of materials, including benzene into the air. The 40-day incident lasted between April and May according to the Texas Commission
on Environmental Quality. Anthony Buzbee is her attorney.
"I didn't have anything to do with the 24 releases that occurred in the six months of Julius' life. I mean, that's what BP did. This is a custom and practice that it has had, at least since 1988. BP doesn't get it."
BP faces a lawsuit by the Texas AG over the incident as well as a 10-billion dollar federal lawsuit on behalf of 22-hundred clients by Buzbee.