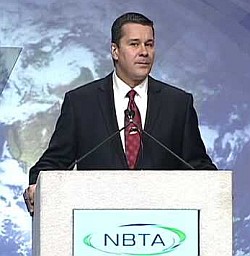 Some 6,000 buyers and suppliers are attending. Craig Banikowski, president and CEO of the National Business Travel Association, says taxation within the industry and the government's attitude are issues.
"And it's time for our government truly to understand the repercussions when they come up with statements like slow down of government travel — the implications that occur both for the travel industry as well as meetings. Business travel represents $129.9 billion to the U.S. economy. We're looking at nearly $6 million being infused in the local Houston economy by this event."
As the economy improves, executives are once again hitting the road.
"Many of our studies have come out to show that the return on investment for business travel for corporations can be up to $15 for $1 spent. So by getting the sales people out there and selling their services and products, they're able to recoup the spend on business travel through greater profitability for the company."
The convention exposes Houston to thousands of corporate travel and meetings professionals, many of whom may be interested in booking Houston for future events. Virgin founder Richard Branson speaks at today's session. Ed Mayberry, KUHF News.