The plane sits in an open field with no runway and not far from the Houston Police Department Training Academy near Bush Airport. It is now the newest tactical training ground for the HPD and regional law enforcement agencies. This is police chief Charles McClelland.
"We're certainly going to be able to expand our training and also do more coordination, in training with our federal and state partners, because no one can protect this region alone. No one has the resources. No one has all the information. So, this is a very very important piece for this region."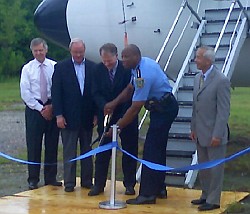 Houston Congressman Ted Poe helps Houston Police Chief Charles McClelland cut the ribbon to the HPD's newest training tool
The retired Boeing 737 was used as an Air Force trainer in San Antonio, and was destined for a scrap heap in Arizona never to be used again. Houston Congressman Ted Poe says he got a call from members of the HPD SWAT team.
"The Houston SWAT team came to me and said that they needed an airplane to train on. We started on this project a little over a year ago. We found an airplane that was being decommissioned by the Air Force, and rather than fly it to Phoenix, Arizona and leave it in a bone yard, we'd fly it from San Antonio to Houston, and the Houston Police Department now is the proud owners of HPD-1."
Congressman Poe says the project came at no cost to taxpayers.
"Houston, because of its location to petrochemical plants, because of NASA, the large population, the Houston Port yes, for homeland security this is a place that we ought to be concerned about. And so, part of that is to make sure that international flights, and that's what this is primarily gonna be used for, in case there's a problem in international flights, our Houston SWAT team will be well trained, and in case there is some type of issue."
The 3.5-million dollar aircraft was outfitted to simulate a commercial plane. This is Houston Police SWAT team Lt. AJ Mahalco.
"We practice assaulting the airplane. I can't really get into the tactics of how we exactly do it, but terrorism nowadays, hijackings. It's real difficult to assault an airplane because its pretty locked up."
Hernandez: "This is alot better than watching a film or something?"
Mahalco: "Exactly. Films make everything look easy, but there's nothing better than actually doing it with a real plane."
Houston Police is believed to be the first local law enforcement agency in the country to have its own plane.
Pat Hernandez, KUHF News.