It's a problem Houstonians face every summer when the temperature gets unbearable. Keep the A/C running and stay cool, but pay the price when the bill comes; or don't use the A/C that much — maybe use a fan instead — but pay the price in physical anguish. Congresswoman Sheila Jackson Lee and non-profit agencies are helping those who don't have that problem because they don't have an air condition unit to begin with.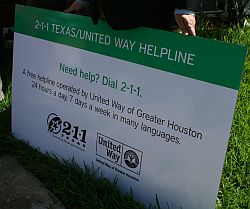 "I've gone into seniors' homes and found them laying on the floor because the floor was the coolest place. And the place was sweltering. Heat rises. I know there are many people throughout our community right now today who are suffering because they don't have access to a cool home."
Jackson Lee says the Houston Heat Relief Program has been helping seniors and the city's most vulnerable for ten years. It's a combined effort by non-profits and the government. Jackson Lee is asking businesses, corporations and even private citizens to donate A/C units.
"In the past, we've gotten it from local hardware stores, the larger corporations, we're reaching out to them. We're just initiating the program, we've been successful in the past so we're asking over the public airwaves, for people to donate air conditioners to help those who are most vulnerable."
Houston's Anitra Dave isn't a senior, but after getting laid off from NASA last year, she qualified for help.
"I have one window unit in the front but it doesn't cool off the whole house. If I do it takes a long time and it's a high electricity bill to cool off the whole house, especially in the heat of summer."
To register to receive a free air conditioning unit, you can call the United Way helpline number 2-1-1.