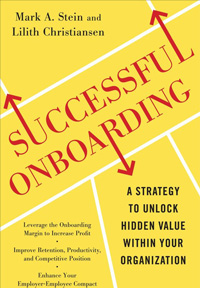 The traditional form of orientation — a site tour, administration of benefits and a history of the company — can leave new employees to sink or swim on their own. In the book "
Successful Onboarding: A Strategy to Unlock Hidden Value Within Your Organization
," co-author Lilith Christiansen says "onboarding" can drive performance and help avoid failed expectations and missed opportunities.
"Part of where the difference is, is that it is a focused effort on the new hire and their first year. To give you an example is you would have your annual assessment process that's already in place. What you might do differently than with a new hire is make sure that you are taking time out before that assessment takes place to walk the new hires through the process. Help them understand how that information is used."
The average company has a ten to fifteen percent attrition rate each year — turning over nearly a third to one-half of its workforce every three years. Christiansen says "onboarding" can help, with all types of businesses.
"While our book uses a lot of examples from Fortune 500 organizations and very large companies, we feel that the practices are still very applicable in a smaller organization or in a non-profit. I think any organization that invests in bringing on a new hire wants to maximize that investment. So by putting in place these kinds of practices, you're going to get gains, no matter how big an onboarding class that you're talking about."
Christiansen says "onboarding" can help break the cycle of recruiting, developing, losing and recruiting, and capitalize on the investment that hiring talent represents. Ed Mayberry, KUHF News.