You may have seen this ad on TV. A man is driving down a desert highway with his living and dining room on board, complete with armchair, coffee table and staircase. He gets in an accident, and his belongings go flying, landing in a heap. Then you hear this: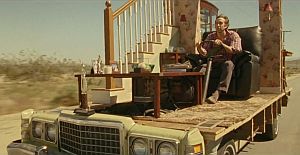 A still shot from the commercial in question
(Click the image to view the video)
"Without the right auto insurance, a crash might impact more than your car. Make sure you're properly covered, so when you're driving your car, you're not risking your house."
Attorney General Greg Abbott says the ad is deceptive, because it implies you could lose your house if you get in an accident and don't have enough auto insurance. AG Office Spokesman Tom Kelly says that's just not true.
"The state of Texas has very very strong homestead laws to protect the home against such liabilities, and there's absolutely no validity to the claim that additional auto insurance will help protect your home from being lost."
Under Texas Homestead Laws, your house cannot be seized to pay a debt. So even if you're in a big crash, your home is safe. Abbott has sent a cease-and-desist letter to Traveler's, demanding that they pull the ad or face legal action. In 2005, the Attorney General used the same approach with Allstate Insurance for a similar ad, which they then pulled.
Traveller's Insurance did not return KUHF's calls for comment.
Melissa Galvez, KUHF News.