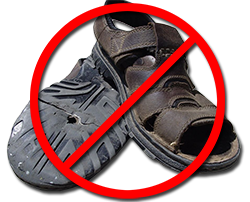 It's much hotter in the summer, and the warm weather is a good reason—especially in the south—to relax dress codes in the workplace. But getting too casual can potentially damage career prospects. Adrienne Keally is with Robert Half International's Houston office.
"You know, some people take sandals too far when going to work—flipflop-type shoes, and at all times, flipflops are inappropriate footwear to work. Do they fit too low, as far as your pants are concerned, and, you know, is there any kind of skin showing? And then t-shirts. I think that the biggest thing that's inappropriate, you know, are the t-shirts that may have political statements on them or comments on them that could be seen as offensive. You want to dress for the role that you want to, you know, the position that you want to hold."
Keally says managers can develop negative opinions about your drive or attention to detail based on your dress.
"I think a lot of companies, especially here in Houston, have a more business casual environment during the summer months because of the heat. I think the operative word is 'business' casual, and I think a lot of times, the lines aren't as clear. People do take asvantage of that more relaxed environment. Pay attention to what others wear in your office. If you don't feel comfortable in it, don't wear it. You're always safer to be more dressed up than too casual. And if you follow your manager's lead, typically you're going to be within code."
Keally says managers need to speak with employees who get too casual, and hold themselves to the level that they'd like their employees to dress. Ed Mayberry, KUHF News.