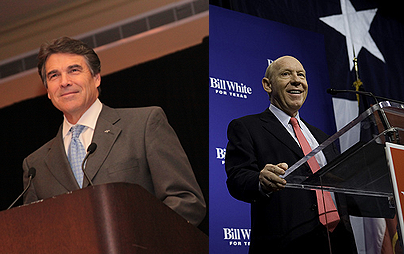 The last time Public Policy Polling asked voters in Texas who they support for governor, Governor Perry lead former Mayor White 48% to 42%.
That was four months ago. Today, the two candidates each have 43%. Tom Jensen is the director of Public Policy Polling.
"This particular poll would seem to be an indication that incumbents of both parties really have something to worry about — whether their officials are Democrats or Republicans."
Jensen says two things have narrowed the gap between Perry and White. One — nearly half of voters surveyed disapprove of the job Perry is doing. And, two, White is gaining more support from independent voters, and voters from the GOP.
"Bill White is winning independent voters 42-36, and White's winning 15% of Republicans, while Perry's only getting 10% of Democrats. And that's what's allowing him to sorta overcome the Republican lean of the state."
Still, Jensen says White may not be able to overcome the unpopularity of President Obama and other Washington Democrats among the majority of Texas voters.
"Folks might be unwilling to vote for a Democrat, even if they like White more than they like Perry."