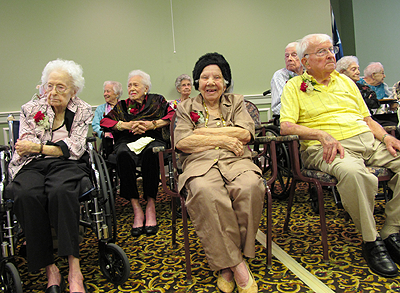 From left to right: Carol Walker, Mary Tucker and Henry Prentice
enjoy a party for centenarians in the Houston area.
"Good morning…"
"And, how old are you?"
"I'm, uh, 100 and… 6 months."
And that's how it went as the centenarians trickled in for the party. Many came by wheelchair and walker, but others just sauntered in. Like Jean Applebaum, who will be 100 in November. She moved to Houston in 1952.
"Boy, this city has blossomed. (In good ways or bad?) Oh, I think it's tremendous, it's a work of art. It's unbelievable that a city could grow and I don't think it would have grown without air conditioning. It was pure hell living here."
Clarewood House in Sharpstown has six residents over 100, and the staff decided to invite as many other centenarians as they could find. They got 34 responses, and had the vague hope of breaking the Guinness World Record for the most centenarians gathered in one place. The record is 28.
Some of the honored guests were incredulous that simply living for ten decades earned them the right to be fussed over.

"I been kissed on the forehead, on the cheek and on the chin so now where else is someone going to kiss me?"
That's Violette Killough. She's 101 and has been retired from the telephone company for 36 years.
"I first started out at the switchboard and you wouldn't imagine how high those switchboards were. You had to sit on a high stool. Stayed until I was forced to retire at 65."

Killough is still smarting about it.
"Well, I coulda worked longer, there wasn't anything wrong with me and my health was good and everything. But that was the rule, so out I go. Right in the middle of a week. They couldn't even wait until the end of the week."
The guests sang "God Bless America," ate pastries and watched a nostalgia-drenched video about bygone products like bottled milk and white gloves. And then the centenarians introduced themselves.
"I'm Henry Prentice and I was born November 23, 1909."

Prentice added that he always walked three miles a day until about five years ago. And then, some perspective:

"And one of the things that's been outstanding in my 100 years has been communication. My grandfather had one of those telephones, it was a board, a box on the wall, fastened on the wall, a crank on the side, and they'd tell you plug your name in you could speak to someone maybe 25 miles away. Now with that little thing you can hand in your hand you can call over the world."
In the end, only 19 centenarians came, and a handful of 99 year-olds. So the record remained out of reach. But it hardly seemed to matter.
For statistics on the aging population and centenarians, visit the Administration on Aging.