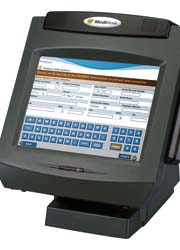 Jeffrey Kendall with NCR says the experience is similar to checking in at an airport.

"I enter in my basic information to identify who I am, and then fill out forms and health history information that I would typically do, but now do that electronically."
Ed: "And people really are used to the touch-screen concept or just about anything these days."
"Currently today, NCR is the global leader in self-service across multiple industries. So we're the world's largest manufacturer of ATMs, a large producer of retail self-checkout machines, so if you've been to the Home Depot or Lowe's and used the self-checkout there, those are NCR solutions, as well."

The kiosks are being set up in a new outpatient care center that Methodist Hospital is opening next month. The hospital's Greg Page says even elderly, less-computer-oriented people will like the experience.

"The common assumption is that the older end of the population may shy away from these things, and we found quite the opposite. All age groups are pretty open to giving it a shot, and we've got staff members that are pretty close by. But we haven't noticed any specific age group that shys away from them. In Home Depots and grocery stores, these are becoming more common, and paying with credit cards is becoming more common, so folks are becoming accustomed to signing. So it's electronic signature capture. Folks are becoming more comfortable with this type of technology."
The sign-in kiosks are being placed at several locations throughout Methodist's new building in high-traffic areas and on the second floor where the skywalks are, as well as in each clinical area. To learn more, visit the NCR medical kiosk page.