The first landing attempt is set for 7:48 central time at KSC, but entry flight director Tony Ceccacci says there is a weather system in the Atlantic that may cause showers along the space coast. He says though he is encouraged by the way the forecast is developing.

"I've been watching the trends for awhile and they're trending favorably. So, our hope is that when we come in tomorrow morning, things will still be trending a good direction and we won't have to work it that hard, but again it's KSC, and we'll get what we get when we get there in the morning."
Because Atlantis carries enough supplies to stay aloft an extra three days, Thursday's landing option will also be KSC.
This is the 32nd mission for Atlantis and possibly the last one. The shuttle's crew took some time to pay tribute to her. Astronaut mike good says Atlantis has served NASA well.

"She's been to many different destinations. I was lucky enough to go to both the Hubble Space Telescope and the Space Station. She's also been to Mir and many other different places, so she's well traveled and served many of us well and we look forward to bringing her home safe and going to visit her someday on the ground."
The Johnson Space Center is among the places vying for one of the three remaining shuttles once all are retired from service.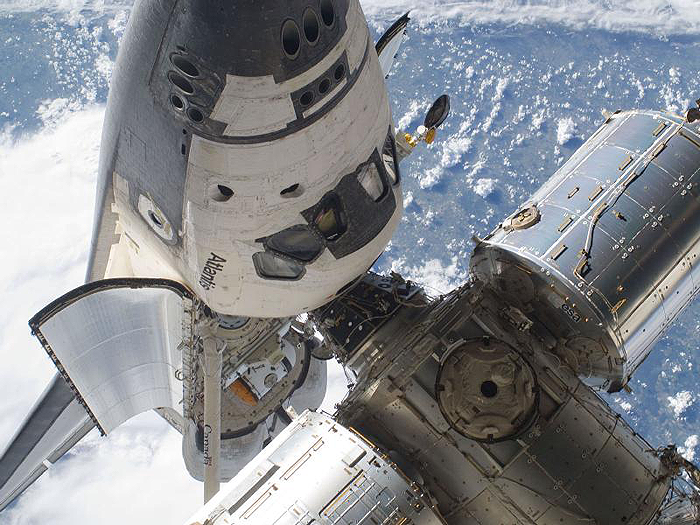 This image features space shuttle Atlantis's cabin and forward cargo bay and part of the International Space Station while the two spacecraft remain docked during STS-132 mission's Flight Day 4 extravehicular activity.
Though three sessions of extravehicular activity will involve only three astronauts (two on each occasion) who actually leave the shirt-sleeve environments of the two docked spacecraft, all twelve astronauts and cosmonauts on the two combined crews have roles in supporting the EVA work.
Photo credit: NASA
May 17, 2010