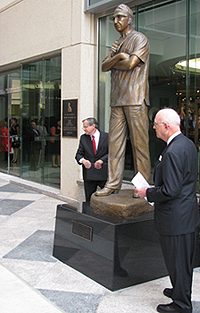 New Orleans-style jazz was Dr. DeBakey's favorite music. So it's only fitting that a local jazz band played at the ribbon cutting of the library and museum that bears his name.
"We are hoping this will honor Dr. DeBakey's legacy"
Lisa Kennedy is a Senior Vice President at Baylor College of Medicine. She had a significant role in raising the more than $24 million in private contributions to make the DeBakey library and museum a reality. She says the exhibits are meant to inspire students considering a career in medicine.
"So that as they go through the museum, they see some of the actual equipment that was used by Dr. DeBakey. They can see the progression in technology that was used. They can experience and observe some of the creativity that went into that."
One of Dr. DeBakey's creative milestones was the first artificial heart artery made of Dacron. The sewing machine he used to develop that graft is on display, along with a full-scale recreation of his operating room.
Dr. DeBakey was the first president and chancellor of the Baylor College of Medicine. He served as chief of surgery for 45 years. In 1983, he started talking about creating a place at the college to keep his papers and memorabilia. He was on hand for the ceremony kicking off the library's construction three-and-a-half years ago. But he passed away in July of 2008, just a couple of months shy of his 100th birthday. Dr. George Noon was a student and colleague of DeBakey's for more than 40 years.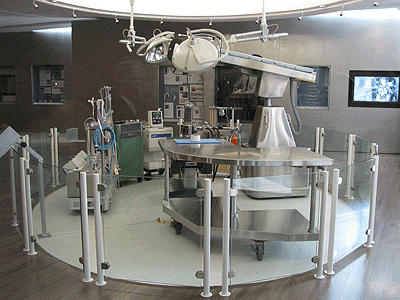 "He missed out, but he knew what today was gonna be like, because he had multiple tours through the museum as it was being developed. And so what we see in there is what he's seen, and what he envisioned, and what he would have been proud to have had come to today."
Admission to the DeBakey library and museum is free.