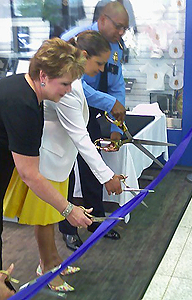 "Cut." (clapping)
Helping to cut the ribbon opening the new HPD Museum, located at the Police Department headquarters downtown were family members of slain police officers, Harris County DA Pat Lykos and police Chief Charles McClelland:
"This is really a tremendous day for HPD that we can display some of our artifacts and also our wall of honor that of our men and women who have lost their lives in the line of duty."
Houston Assistant Chief Brian Lumpkin says many of the artifacts came from the museum located at the HPD Training Academy, but this one will help to keep the memory of slain officers alive.
"We wanted one where we could have it right where we could actually take time out on our breaks and come down and reflect. Many of us are attached to those officers that are on the memorial that's here, and it really will give us a chance as a police department, to come after our work day and remember those that paid the ultimate sacrifice."
Harris County District Attorney Pat Lykos donated the uniform she wore when she graduated from the Police Academy. She calls it an honor to be a part of the museum.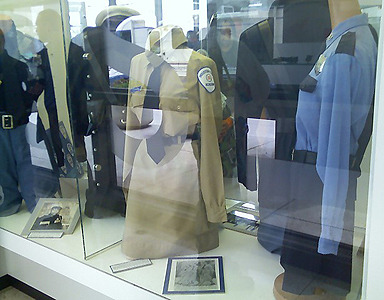 "I never dreamt, never dreamt as a cadet, that something as extraordinary as this would ever occur in my life. And what this does though is bring to life law enforcement, and you see the evolution of it, and we need to understand from whence we came, and that's how you find the right pathway to the future."
PH: "Your uniform represents an evolution."
Lykos: "It sure does (laughter). Can you believe that waist (laughter)? I was 107 pounds pounds soaking wet."
The museum is located on the first floor of HPD headquarters downtown and is open 24 hours.