Memories of Sylvan Beach Pavilion came from official functions to gatherings like weddings and proms. They came from the pavilion's main feature: the circular dance floor in the center of a glass-walled, octagonal ballroom.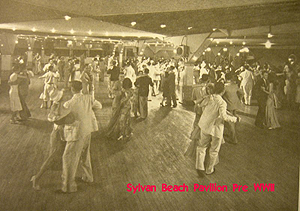 "Up through probably the 70s and 80s, the pavilion has made connections to generations of Houstonians."
Ted Powell is one of the organizers of the Friends of Sylvan Beach Park and Pavilion. He says the historic building is still functional in its original design.
"The pavilion was built in 1956. It's a modern design, it's the early days of modern architecture post war, but I guess you know, from the general public's perspective, there's just a broad demographics of support for the pavilion."
Powell says he's nominated Sylvan Beach Pavilion for historic designation from the Texas Historical Commission…a designation that will probably happen. But repairing the pavilion, which sustained major damage from Hurricane Ike, is estimated at 1.3-million. A new facility would cost about 7.5-million. It's located in Harris County Commissioner Sylvia Garcia's precinct.
"We've already been told by the state that HUD will not approve any dollars going to this building because of its close proximity of the pavilion to Galveston Bay."
She says the next step is to have an historic architect make an assessment.
"I want to go ahead and start the process of having the architect look at it, so that he can look at where the damage was, look at what may be possible and not possible, and then of course keeping in mind that we'll work together with any historic group, whether it's the Texas Historic Group, or the MOD Historic Group or any other groups involved, to try to do what's best for the building, save what we can, but also prepare for the future."
Garcia says it is now a matter of balancing the restoration and preservation needs with the needs of the community.
"We've told all the groups all along no decision is final. We're trying to balance all the interests but more importantly, we've got to look at our own finances and do what's best for the taxpayers."