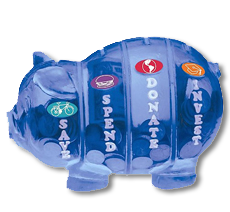 Americans saved the highest portion of their disposable income in 1944, when they stashed away over 26 percent. Personal savings are at almost five percent now, and that's an improvement from the early part of the decade, when the savings rate was at a negative. Laura Fisher with the American Bankers Association says it's never too early to start.
"There are many positive habits that are instilled in children when they're young. They develop the habit before they're capable of understanding the reason—looking both ways before you cross the street, brushing your teeth, those kinds of things. They may not understand why they're doing it, but they know it's important. So, it's similar with saving. We just want, you know, parents to talk about saving, getting kids in the habit of saving, so that later in life, it'll just be something they do, and not something they really have to think about."
Fisher says saving is a behavior, and education is the key.
"One of the best thing you can do, if you're planning a family vacation, sit down and write out the budget before you take that trip. Talk about what you're going to spend on food, and if the kids are allowed to get a few souvenirs while you're on the trip, set a budget for them, as well. If they spend it all on one day, that's what they have. But, it's tough, even as, you know, adults. We understand how difficult it is to put off that immediate gratification and save that money."
The ABA Education Foundation offers free online training for parents and teachers at Teachchildrentosave.com.