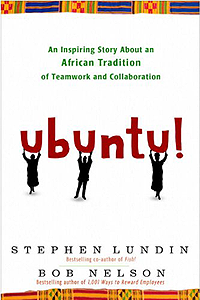 Countless studies show that satisfied employees help to improve a company's performance. The co-author of Ubuntu! An Inspiring Story About an African Tradition of Teamwork and Collaboration says teamwork achieves results. Dr. Bob Nelson writes of a way of reviving confidence in employees that their work is meaningful and important.
"Ubuntu is actually in the culture of South Africa, in particular. It's a life principle of connectiveness and team spirit, which really says 'I am because we are,' we're connected. As we treat someone else, they will treat us, and the Golden Rule. And basically it's a respect for others and ability to unite around meaning and purpose that's greater than either one of us."
The book reveals the core elements of the African philosophy of Ubuntu—teamwork and community, as it relates to the business world.
"Ninety percent of organizations report cutbacks and downsizing, and that takes its toll because some of your friends got laid off and now you've got to do the job that they were doing, and by the way there's no Christmas bonus and no raises this year, and people are hunkered down working hard. In the short term, anyone can do that—rise to the occasion, you know. Really, it's a national crisis that we need a rekindling of spirit in the workplace, and this, we feel, is the answer that can help spark that."
Nelson has sold over three million books on management and motivation.