You or your gardener cuts the front grass like normal, maybe rake up a pile of leaves that have fallen from the oak tree and then trim the hedges making them nice and neat. You put them into a big, black trash bag and set it out front for the garbage man to pick up. But then you notice the bag is still there the following day and there's a sticker on it.
"We're putting stickers on the bag to notify the residents, it'll either be an orange or green and it'll say that the city is no longer picking up plastic bags; you must use compostable bags to put it at the curb."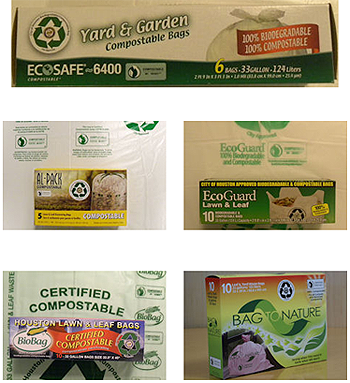 That's Marina Joseph with the City of Houston Solid Waste Department. As of this month, all yard trimmings are supposed to be put into special city approved bags that have the recycling logo on them.
"They look just like plastic bags, but actually they're made out of cornstarch. It looks and feels the same, but actually they will degrade in less than three months."
The goal is to keep things out of the landfill that don't have to go in there, while also making money at the same time. They do this by contracting with a company that pays the City 5 dollars for every ton of yard trimmings it brings. The company then uses it for compost. The white degradable bags can be found at Wal-Mart and Target and home improvement stores.
"There are different locations for different brands. And so you can find the different brands on our website."
Since the city is getting paid for the trimmings, Joseph says trimmings are the only thing you can put in the bag — no trash.
"Even as I went out earlier this week, as we started the program, I noticed that some people had some Doritos bags in there. Not too much trash, but they had a whole bag with green clippings, but it had some trash and we had to tag the bag to let them know that this is only for yard trimmings not for garbage."

For the next few weeks garbage collectors will come back the following day and pick up bags of yard clippings that have the sticker warnings. Remember the new law only applies to this type of waste. Regular garbage can still be put in regular trash bags and picked up as normal.