You almost couldn't tell the kids from adults. They all came to see the huge black?locomotive that hissed and snorted its way to Houston's Amtrak Station, on the leg of the so-called "Valley Eagle" tour that began in Wyoming.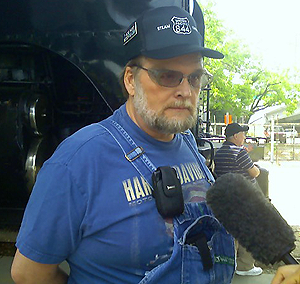 Engineer Steve Lee spends as many as 100-days a year at the controls. He's been a railroader for 38 years, 30-with Union Pacific.
"These things, of course, hit their prime long before I came along. There were a few steam locomotives left when I was growing up and I think because there were so few of them, that's why they stick out in my memory. When I was a little boy, I wanted to be an engineer and I just never grew out of it. This is what happens you know —?mommas don't let your baby hang around trains too much." (hah)
Lee helped organize the Valley Eagle run that left Cheyenne Wyoming at the start of April.
"We had a request from the city of Harlingen for a celebration, if we could bring a locomotive down, and we decided that since we hadn't been to Houston in a few years, and had never been south of Bay City, that we go christen some new territory. So, we picked the right time of year obviously, from the weather, and there's a great deal of advance work involved in these things, checking the tracks where you can take it, where you can't, lining up fuel, lining up water, all of that sort of thing, making sure everybody's on the same page, so that it looks like its easy."
But its not. It weighs a whopping 454 tons. The boiler carries over 23-thousand gallons of water. Lee says they like to share 844's history wherever? they go. Laura Peters Cox brought her family from Garland. She says they all know they're witnessing a piece of history that's one of a kind.
"Yes it is. It's a wonderful representation of our steam heritage, and transportation history, history of transportation in this country."
PH: "Was it easy to translate the significance of this to your daughters?"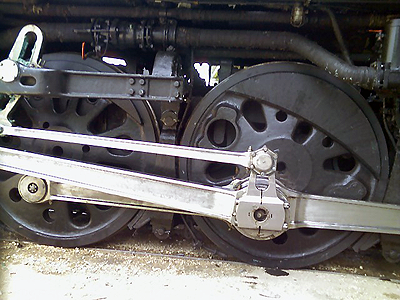 Peters-Cox: "Miranda gets it, cause she's 11-years old. Sarah just thinks it's big, noisy and cool — big, noisy and cool is a good jumping point —?then, for explaining the history and how the Union Pacific opened the west and settled the west."
PH: "Were? you as fortunate when you were their age to be able to witness something like this?"
Peters-Cox: "Yes I was. My dad took me to go out and see the "610" when she was pulling the "freedom train". The "610" of course, now is no longer under active steam. She is on static display in Palestine, so we recognize that the next really major repair may be the last one."???
The locomotive is on display till 8pm at the Houston Amtrak station before it leaves for the valley in the morning.