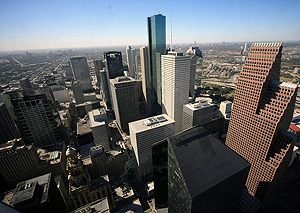 The report looks at the drivers for the Houston economy. Economist Barton Smith says by 2035, population will have soared to 9.5 million, and then sheer city size will take its toll on the growth rate.
"The improvement in the urban amenities more than outweighs for any disamenities associated with the beginnings of the congestion, and so forth. And it actually adds greater stimulus to economic growth. You reach some point, however, when as a city becomes so big the disamenities start to negate the amenities, and you see the rate of growth slow down. We've reached the point where we're starting to see mounting disamenities that are starting to negate the improving amenity package that we've got."
Smith says it will take long-term planning to counteract the tendency for disamenities to overshadow the amenities that growth brings.
"One of the challenges of the next 25 years in Houston is for us to upgrade our infrastructure, to get that 'newness' feeling back again. It's going to take some private sector investment; it's going to take some public sector investment. I want us to avoid the mistake that we made in the 80's. When the Houston economy went south with the energy bust, one of the things that happened was a change in psychology from this 'can-do' psychology to 'we have, we have been mortally wounded!' you know?"
Smith says we can't be so tied to worries about the next 12 to 18 months that we forget the long-run.