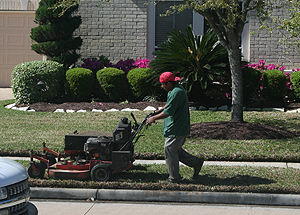 (Sounds of lawn mower).
After going nearly silent the past few months, the sound of mowers, trimmers and edgers can be heard again in Houston neighborhoods. Gary Baron works for TruGreen a professional Lawn Care company.
"We check for insects and diseases and any weeds that need to be taken care of for the time of year."
Baron says the first thing you need to do in order to get the green back in your yard is cut it low. Something you normally wouldn't do throughout the year.

"Setting your mower low, you'll get rid of a lot of that brown material out of there. Let the sunlight hit the soil to heat it up and that's what's going to cause the lawn to start to green up."
Baron says you want to water your grass but not too much…just once a week right now.

"No, no. Too much water is just as bad as not enough water, especially with St. Augustine. It causes disease problems."

The experts can take one look at a yard and can tell what it needs, what it doesn't need and what the homeowner may be doing wrong. Baron's coworker Bud Sparks says people make all sorts of mistakes.

"People have a tendency to think if you're supposed to put one ounce of product in to kill a weed that is one is good, two is twice as good and they end up burning their lawn or doing damage to their lawn."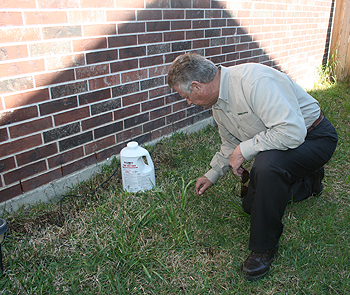 It's not just yards people are paying attention to right now. With record low temperatures this winter, Houstonians saw a lot of their expensive plants and trees die, especially palm trees. But Barron says some of them can be saved.
"Right now, it's a matter of patience for palms. If you've got some brown fronds that are drooping — like what I'm seeing here — you've got to cut those off. But anything with any type of green, just leave it there, be patient and wait for new fronds to come out."
Like anything…they say the key to a nice yard and landscaping is time and effort. For those who don't want to do that…you can call the pros — like Gary Baron — or have the worst yard on the street.