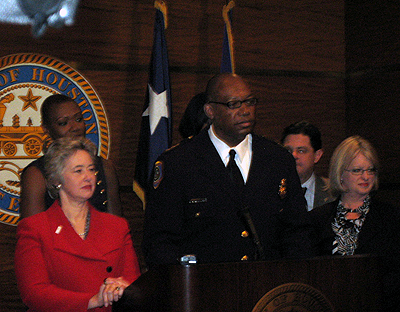 The nomination of Charles McClelland as the new chief of police was probably one of the worst-kept secrets in town.
For months, speculation has centered on McClelland as Mayor Annise Parker's favorite for the position.
Parker made her choice official in a packed press conference at city hall, calling it perhaps the most critical appointment she'll make as mayor.
"I believe that Chief McClelland brings the right experience, the right temperament and the right ideas and flexibility. Because it is about being willing to do things differently that you may have done one way for a very long time."
Speaking of a long time, McClelland has been with the department for 32 years and has served on the command staff since 1998. Parker named him as acting police chief at the end of December, when former Chief Harold Hurtt resigned.
McClelland says he has three priorities for his tenure.
"One is strengthening those police-community relationships. Two, improving the internal communication processes inside the organization. And being more efficient with our processes and resources. So those are the three points that will frame my administration."
McClelland faces serious challenges in the department. HPD has a dwindling police force, combined with a stagnant budget and rising costs.
Parker says one of the issues she expects the chief to address is what she calls an inverse relationship between overtime and money available for new hiring.
"We have to make sure that overtime is used judiciously and if we can shift more money over into hiring, we'll do that. He has identified officers that can be immediately put back on the street. And longer term he is going to look at a work-demand analysis, we're going to look at where we are deploying our officers — if they're deployed in the right place."
McClelland has also initiated an internal drill down into HPD's budget.
He says the department can do a better job with the resources it has.
"The final phase of our 24-hour crime center — that has to be the centerpiece of how we deploy our resources. We also have to expand the use of technology, such as license plate readers, more video surveillance, more photo red light enforcement — anything that is a force-multiplier that stretch our resources a little further in these financially challenging times, we have to do that."
McClelland says he's taking on the job at a challenging time, but calls it the pinnacle of his career and a highlight of his personal goals.
McClelland's appointment must be confirmed by Houston councilmembers. That vote will take place in two weeks.