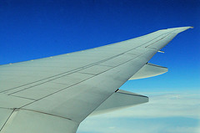 The Shoulder Season for travel is in April and May — the period before the busy summer travel season. Jeanenne Tornatore is with Orbitz.
"Typically in the travel industry, that time between the winter season which is off-season for a lot of destinations, and before the crowds get there for summer. So, in April and May, you can typically — even when the economy's great — this is the time of year when you find good deals. So, given the slow economy, there are really fantastic deals out there if you have the vacation timing and take that last-minute trip."
Ed: "Are the deals usually last-minute?"
"If you can travel last-minute and you're a little bit flexible, you can find airfare deals for destinations where the airlines need to fill those seats in their flights and the hotels need to fill those rooms."
Certain destinations are known for great shoulder season travel…
"European destinations — places like London and Paris and Rome, where you can pay thousands of dollars for a week long trip. In the first week in May, on Orbitz I found a package that includes your round-trip airfare plus six nights at a four-star hotel in the heart of London in a great neighborhood for $1,200 per person."
Ed: "Now, is there a companion Shoulder Season in the fall, also, like October-November?"
"There is, exactly, September, October, November — that is the companion season in the fall. So, European destinations, (and) cruising also is a really great option during these two Shoulder Seasons."
The Shoulder Seasons usually offer better prices for airfare and hotels, smaller crowds and mild Spring weather, although it can mean a little heavier packing than when traveling with summer clothes for some destinations.