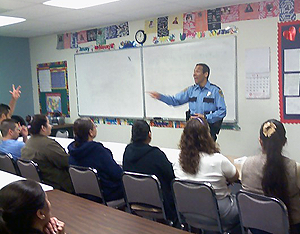 The Houston Police Department addresses crime on a daily basis, but March is the month when it brings special emphasis to certain crimes. This year, the HPD is targeting burglaries of motor vehicles as a crime than can be prevented.
After presenting valuable tips to residents, Officer Rick Trejo with the HPD's Eastside Patrol, took them outside the Community Family Center in East Houston. He issued theft reduction report cards on vehicles, to determine if they posed a threat to car thieves.
"The windows were locked, it passed there. Were there packages in there? A lot of stuff, so it flunked. This one flunked…big fail."
Even though the language spoken is predominantly Spanish, Officer Trejo says the residents were very receptive.
"We've done several classes out here in the past, and being this March on Crime month, we're out here doing classes on burglary of a motor vehicle, actually crime prevention, so we're out here, trying to give them some information, trying to keep themselves from being a victim of crime, and the main thing is, not leaving articles in their car, and that's what they're looking for, to break into, just an opportunity, and the second main thing is to report it."
Some residents are reluctant to report crime especially vehicular theft. Officer Trejo says the HPD is doing what it can to encourage citizens to help reduce crime.
"I think that's been a big problem in the city of Houston. So, that's why we're out here. We're out here to educate the people, and also to keep them from being victims of crime."
Last year, over 35-thousand vehicles were reported burglarized, and Houston Police say that averages to about 94-vehicles a day. More information can be found at www.houstontx.gov/police/chief/moc/.