"When I turn my appliance off at night, in the wintertime when it's cold, my house will stay warm until at least 12 o'clock the next day."
Irwin Livers is a 55 year old disabled veteran, who's been living in his Fifth Ward home for 3 years. Back when he lived in apartments, his utility bills sometimes cost him $300 a month. But now that he lives in a well insulated, energy efficient home, the heat and cold stay in-and the bills stay low.
"When it was real cold, last month, my electric bill was $114. My house is a 3 bedroom, 1 bath home. It's pretty big."
Livers' home was built by Houston Habitat for Humanity. The organization has just won the 2010 National Energy Star Award for Excellence in Affordable Housing, which is given out by the Energy Star program at the EPA. Applicants for the award include other non profits as well as for profit builders.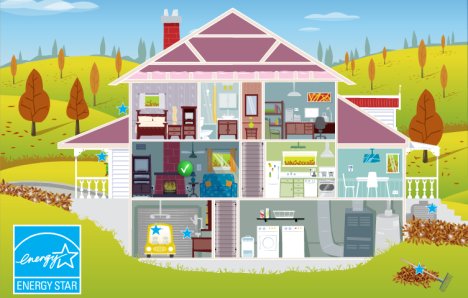 Livers' home was built by EPA spokesman Brian Ng says that even though Houston Habitat for Humanity relies on volunteer labor and sponsors to fund their homes:

"Yet they were still able to build 84 Energy Star homes in 2009, which is not only more than all the other Habitat affiliates who applied for an award, but also, more than some of the other entities who applied for an award."
Houston Habitat's director of construction, Jerry Kovaly, says that his organization puts several energy efficient features into the low cost homes they build: double paneled windows, increased wall insulation, and Energy Star rated appliances. Even though it costs more to build the homes, Kovaly says the yearly savings are worth it for Habitat homeowners.
"We want to do the best we can for our homeowners. They never have a lot of disposable income, so the more energy efficient, the more maintenance-free the homes are, the more disposable income they will have, which allows them to do things such as going on to schooling."
Kovaly says that the Houston Habitat energy efficient homes save residents on average 45% on their utility bills, and that the organization values being able to reduce their carbon footprint while providing residents with a financially stable home.