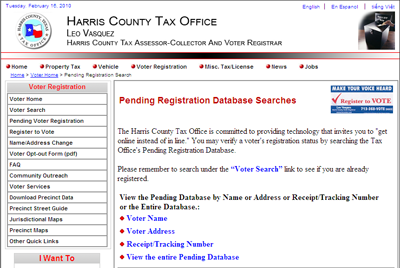 This new online service is available 24-hours a day at www-hctax-dot-net. Simply click on "Register to Vote" and then click on "Pending Voter Registration".
You can then search the data base with a name, address or tracking number. Harris County Tax Assessor-Collector Leo Vasquez says if the application is still pending it will have on of two status designation. The first is PSV.
"It simply means that the Texas Secretary of State is comparing the applications driver's license number or last four digits of the social security number. The other designation would be "NR" for not registered yet and there was probably a problem with someone's application."
Vasquez says don't hesitate to correct the problem once you receive a letter notifying you of it.
"If you put in you original application on time and you replied to that letter within ten days we can still get you registered to vote on March 2nd."
Vasquez says if your status is "NR" you can call his office even before getting a letter.
If you don't find your information on the "Pending Voter Registration" page it means you're registration has been verified and is in the active voter file.