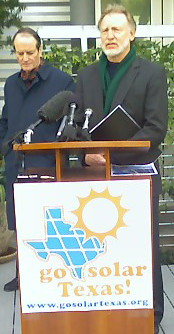 The house is a radical departure from the other homes in the neighborhood off Kirby. Architect Joe Adams says he designed the house with the idea of using solar energy to live by and generate power.
"This building is powered by the sun, its illuminated, natural light, in which Texas has in abundance. We have sliced the sky and brought in that great natural resource that Texas has. Among other things, Texas has sand and sun. What else do you need for solar panels besides silicon and sand, and of course, sun to power the panels?"
The shell of the house is steel and the northern and eastern walls are windows. Adams says the house knows where it is in relation to the sun.
"I also like to say that you have a sense of orientation in this house. You wake up in the morning and you know where you are. Psychologists say that that is called being centered, where you are, and that lends to a psychological dimension to all of this."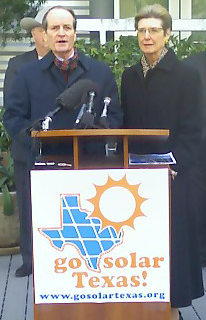 Attorney Dan Hedges and his wife, chief justice Adele Hedges are the proud owners.
Dan Hedges: "We wanted a house that was very low maintenance. We wanted a house that was very low in operating costs, and we wanted a house that was as hurricane and flood resistant as possible. You can't be hurricane or flood proof, but you can be resistant. There is no wood in the exterior of this house. So, for all your houses in Houston Texas where you're always painting or replacing wood, there isn't any."
Adele Hedges: "We like to call ourselves environmental missionaries. We want other people to start thinking about using some of these sustainable building techniques, so that we can all participate in sustainability."
Rachel Shiozaki with Environment Texas says the home is an example of the potential Texas can gain if a strong solar energy standard was passed by the PUC and the governor.
"Texas has become the number one leader in wind power in the country. When it comes to solar, we're currently lagging behind in 9th place, tied with Wisconsin. So, these incentives would help homeowners, would help business people be able to afford to put solar panels on their roof, and it would also incentivize the retail electric providers to create larger solar farms throughout Texas."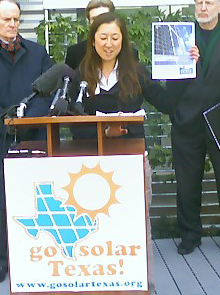 The coalition reports that this year will be a big one for the solar energy industry with over 30-billion dollars in investment, surpassing both coal and natural gas. More information can be found at www.EnvironmentTexas.org and www.adamsarchitectshouston.com.