President Barack Obama is redirecting America's space program, beginning with the elimination of NASA's 100-billion dollar plans to return astronauts to the moon and using a lot of that money for technology research.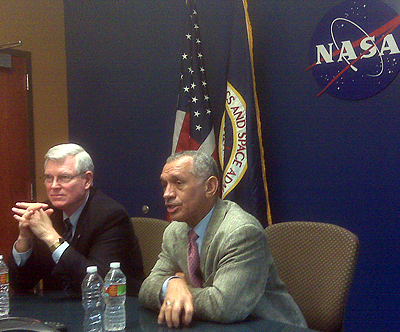 NASA Administrator Charles Bolden told reporters at JSC that shutting down the Bush Administration's Constellation Program will cost about 2.5-billion dollars.
"We're starting at headquarters and organizing several what I call 'tiger teams', to take a look at you know, as we work with Congress on how we proceed through the phase out of the Constellation program. We want to look at what are some of the projects that may be in that program that we do not want to lose. So we want to be able to identify those and we want to be able to utilize them as the nucleus for whatever the follow on program happens to be the program that replaces Constellation."
Johnson Space Center Director Mike Coats says tops on the list are employees:
"About 55-hundred contractors and 15-hundred civil servants. And that's out of a total workforce of about
17-thousand here at JSC combined. We have about 32-hundred and 65 precisely, civil servants, and about
14-thousand contractors here."
Coats says they're very anxious to figure out the path forward.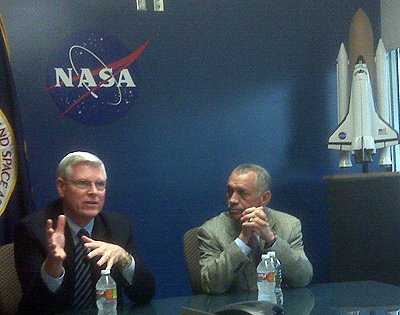 "I'm very anxious to maintain what we call the core competency, the things that we do; human space flight, space operations, astronaut training, the things that Johnson Space Center is known for, that nobody else does."
Both Coats and Bolden could not be specific because the White House plan is also short on details, such as where astronauts would fly next, on what type of rocket ship, or when.
Administrator Bolden:
"There are a number of potential changes in the way we think about human space flight and one of them that I'll be discussing with the astronaut office, for example is as we develop an operational concept for commercial space flight."
NASA's budget is 19-billion dollars, which represents a bump of 276-million from the previous year.