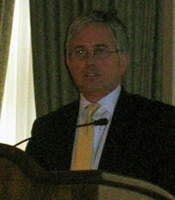 There's the elected mayor of London, Boris Johnson. And then there's the Right Honorable Lord Mayor, Alderman Nick Anstee, who heads London's City Center, or financial district.
"We have around 280,000 people that are working in the City of London, with a further 80,000 people working in Canary Wharf. It is the combination of those two locations where banks such as Morgan Stanley, Deutsche Bank, Citigroup and, of course, our domestic banks are housed. I cover the city part of those two locations. It is a local authority of which we provide the usual services that any local authority does worldwide, whether it's to do with policing, whether it's to do with planning, and so on. Boris Johnson is the mayor of London. Boris is responsible for the strategic issues that impact the entirety of London and the other 32 London boroughs."
Lord Mayor Anstee expects Sharia-compliant investment vehicles to be a major source of potential funding in the United States, fulfilling investment needs in the oil and gas sector previously met through private equity investments.
"At the end of the day, Sharia finance is actually no different to financing, other than the way of getting there and how you contractually document the lending of monies. At the end of the day, they're the same dollars in a Sharia-financed document that you receive as you would under a conventional banking arrangement. All you're doing is trying to keep and meet the honors of, set out in the Koran. And you can still make a profit, but you can't take interest. It's a fantastic opportunity, opening up opportunity to new funding, particularly at a time when there is a squeeze on liquidity."
Lord Mayor Anstee was invited to Houston by the British Consulate and UK Trade and Investment.