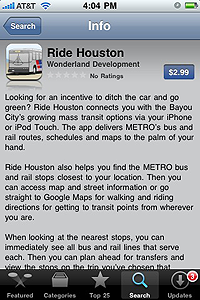 The Ride Houston app is the brainchild of Brian Leonard. He's the founder of Wonderland Development, which made its first mass transit iPhone application for the system in Boston.
"I grew up in the Humble area of Houston. And I always saw the Metro Park-n-Ride, and never took it, actually. But after moving to Boston, I take the bus all the time and wanted to help the people of Houston reap those benefits as well."
Metro was not involved in making the iPhone app, but Leonard says it wasn't difficult to do it on his own, because the transit agency already has online route and stop information integrated with Google maps.
"What I mean by that is where all the stops are, GPS coordinate-wise. So I take that data and fiddle around with it a little bit and put it in a form that can be used by the iPhone."
The app gives riders directions to the nearest stop, with a schedule of when the next bus or train is scheduled to arrive. On board, the app provides a list of upcoming stops, so riders aren't caught off guard. Leonard says about 100 people have already downloaded The Ride Houston app, and he says it will work with the iPad. He's now looking at making similar apps for the transit systems in Dallas and Austin.