Flanked by two electric vehicles in front of Houston City Hall, Alejandro Savransky, a field organizer with Environment Texas, said automakers are more focused than ever on making electric cars the norm, rather than the exception. In the group's latest report, Savransky emphasized the main advantage to electric cars — no tailpipe emissions.
"Powering your car on electricity will reduce pollution by 93 percent less smog-forming volatile organic compounds and 31 percent less nitrogen oxide emissions than powering your car on gasoline. Even when you take into account the pollution from the generation of electricity."
Environment Texas is touring the state's largest, and most polluted, cities to drive home the point that government leaders need to make it easier for people to buy and use electric and plug-in hybrid vehicles.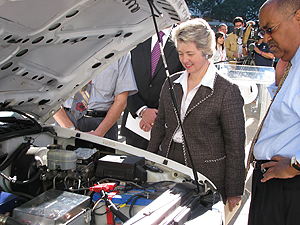 Last year, the City of Houston entered into a partnership with Reliant Energy to convert ten of the more than 700 Toyota Prius cars in its fleet to plug-in hybrids — which can travel farther using just electric power than a typical hybrid. The deal with Reliant includes ten rapid-charging stations at various points in the city which Mayor Annise Parker says she's committed to keeping.
"Because in order for this technology to be accepted, it has to be convenient for consumers. And it's a long way from there. These are the dedicated early-adopters out there now. But we in government have a responsibility in helping provide the infrastructure to provide those consumer choices."
On the state level, Democratic Senator Rodney Ellis says during the last legislative session, he sponsored a bill that became law allowing Texans to take electric vehicles onto roads with posted speed limits of up to 45 miles an hour.
"The next step is to promote the construction of electric vehicle charging stations throughout urban centers all over the state of Texas, provide incentives to buy electric vehicles."
One expert in the automotive industry says he's skeptical that incentives, most likely in the form of tax breaks, will be enough to get electric cars in more driveways. Karl Brauer is the editor-in-chief of the automotive consumer website Edmunds.com. He says in order for electric cars to truly succeed, they must be good enough to appeal to consumers on their own merits, and be profitable for private industries to produce.
"Anything they try to do that doesn't meet those two standards isn't going to have any chance of any kind of impactful, truly effective alternative to the current system we've got in place. So I would put more of this on private individuals and the private sector to make it work than expect government to make it work."
Brauer says despite all the recent interest in electric cars, automakers have yet to solve the three main drawbacks — limited range, long recharging times, and lease prices that, in some cases, and rival those of a high-end luxury car.