Shortly after the quake hit the island nation on Tuesday, response to the tragedy has been non-stop all over the world. It is no different in Houston.
At the Multi-Ethnic Community Center on Bissonnett, donations of clothing, water, non-perishable food have been pouring in. Volunteers are working as fast as they can to box the items for shipment. Cash donations are being given too.
John and Doctor Golf were more than willing.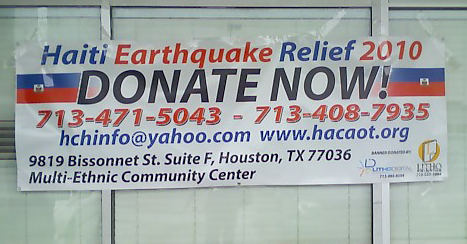 Doctor Golf: "I have sympathy for those poor people, I feel sorry for all those poor people. You know, they've
lost everything, and that sums it up pretty well."
John: "All those people are in dire need of help right now and, where are they gonna get it? They're a poor nation
to begin with."
PH : "What was your reaction upon hearing the news?"
John: "Devastated. That's tragedy. They need our help."
Natalie Alexander is helping in the effort. She says many are still waiting for any word from loved ones in Haiti.
"It's disheartening. It's one of those things that we're definitely praying for the families. The families of four million people in America that are of Haitian decent. They have so many connections to people in Haiti so, it's definitely disheartening to see that."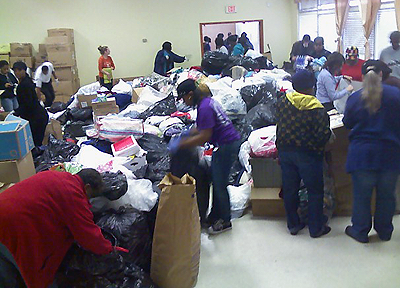 Marie Baptiste is founder and director of the Haitian Multi-Cultural Association. She says the outpouring of support from Houston cannot be measured with just words. Like in any response to disaster, Baptiste says the quickest way to be effective is with money.
"The most wanted item right now, number one is cash, secondly is medicine, because we don't have enough medicine to take care of the people and in third, they need more medical teams to go out there. So, and another thing that they said that they really need is generators. Flashlights, batteries and water. So, we need lots of water. Those are the things that we are really targeting right now. Those are the most precious items."
Many came with donations, but others like Natali Blevins from Houston state representative Kristi Thibaut's office, took time off her job to lend a helping hand.
"Absolutely I mean, we have a lot of Haitians in our district, and just hearing this is just a sense of urgency that we need to help out immediately, and just being able to help out the community I'm more than happy to."
The disaster relief drive at the Multi Ethnic Community Center continues until further notice.